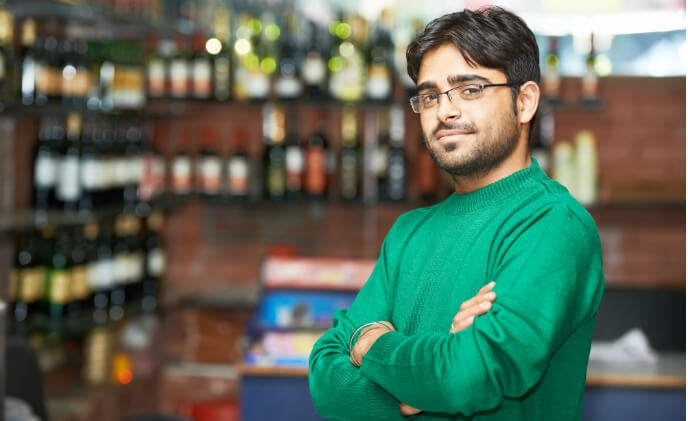 The complex nature of the Indian market makes it difficult to get a comprehensive picture of the demands. In this article, we explore the popular products in the retail sector, in detail.

The Indian retail market has been growing at a rapid pace in tandem with the country's overall economic development. According to the India Brand Equity Foundation (IBEF), a governmental organization working on promoting local brands, retail space demand is expected to have increased 81 percent in 2018. This was driven by increased FDI flow, easier credit facilities, and simplified tax systems.

The security market in the Indian retail sector is seeing significant changes as well. The central and regional governments have become stricter in enforcing surveillance cameras in store premises, prompting not just high and mid-end merchants but also the small shopkeepers to install them.

Here we take a close look at the specific product demands in this sector. At the onset, it must be understood that in the Indian retail sector, high-end comprises the likes of jewelers, mid-end refers to national-level supermarket chains and the low-end is smaller independent stores that sell items like groceries. 

It would also be worth keeping in mind that systems integrators (SI) here would often refer to jewelers when talking of the retail market since India is the second largest consumer of wearable gold in the world with a significant number of jewelry stores. 
Cameras in use at present
According to M.R. Krishnan, Executive Director of Adtech Systems, an SI that works extensively in the retail sector, cameras of resolutions between 3 megapixels and 5 megapixels are the most in demand at the moment. Two megapixels cameras that were in demand until recently appears to be going out of fashion except with certain supermarkets who are not really looking for as many details in their footages as other businesses. Although you would find a lot of analog systems in the Indian security market, the retail market is more of IP-based systems now, according to Krishnan.

"High-end retailers like jewelers would like to have as much as 95 percent of their stores to be covered by the cameras and they would like a higher resolution that can focus on products and if necessary, zoom into specific areas," Krishnan said. 

While this is the case in the mid and high-end retailers, the low-end stores are still not fully aware of the need for security cameras in their premises. They do install them, but only to meet the mandates from the government. Speaking on this, Dominic K.P., President of the Fire and Security Association of India (FSAI), indicated that the camera resolutions are at the lowest in this sector and IP is far from popular. 

"These general commercial establishments usually just go for a 1-megapixel camera that may not be IP-based," Dominic said. "Just to meet the requirements put forth by the law enforcement officials, they go for a camera and a DVR. They do not go by the brand, but price. This sector is very price sensitive. If it's a store like jewelry, they would go for one of the top five brands in the market. The preferred technology would be IP, especially since price may not be their biggest concern."

Dominic is of the opinion that high-end stores, including large consumer technology product retailers, prefer 5-megapixel cameras now. They are also interested in certain analytics to protect store assets. 

Parking solutions are also becoming popular among large retailers who are increasingly under pressure to provide parking space to their customers. Multi-storied parking lots are becoming common. According to Krishnan, retailers are looking for cameras that are branded as parking cameras with analytics built in them. 
Analytics in use at present
Giving the example of Tanishq, a large jewelry retail chain under the Indian multinational conglomerate Tata Group, Dominic pointed out that analytics that would recognize the products in the store are being used now. 

"For instance, if it is a diamonds section, cameras can keep track of any diamond that may be moved from its original location until it is returned there," Dominic said. "If a customer chooses the product and it has gone for billing, that would also be recorded by the camera. This is connected to the inventory list of the company and helps them in auditing and knowing why a product was moved and where it has gone. The system can give a report saying that the object has been moved or billed, along with the invoice number."

Other two use cases of analytics in retail here are the customers and the employees. The latter has become more important as contract laborers supplied by third-party companies are increasing. A store owner may not directly deal with the management of these employees and this would mean he or she may not be familiar with all of them. A camera will be able to keep track of them and a facial recognition system can make sure the right person is in the shop. 

Facial recognition is also becoming popular among high-end retailers to identify regular customers and known offenders. Krishnan said that stores like jewelers are part of associations that have their own list of known offenders and use face recognition technology to keep track of them. More traditional analytic usages like footfall monitoring are also getting popular. But Giridhari Ramamoorthy, Director of APAC Sales and Business Development at PACOM and 3xLogic, said that the layout of the stores limits such functions. 

"For instance, the way many stores are designed in India is inappropriate for people counting," Ramamoorthy said. "There is always a crossover between the staff and the customer. If you look at stores in the US and several other places, the staff would be located in one area and customers would be moving in and out. This makes it easier to monitor footfall, dwell times, heat maps, etc." 

For the most part, analytics used by these customers are from Indian manufacturers. The local software industry is growing stronger and this proves to be a cost-efficient solution. 
Access control in use
Indian retailers use access control systems mostly for time and attendance purposes. Biometrics has become the standard for the most part. Again, several Indian companies hold a significant market share in this sector, enabling the customers to strike a balance between cost and quality.
Source: Prasanth Aby Thomas, Freelancer, asmag.com