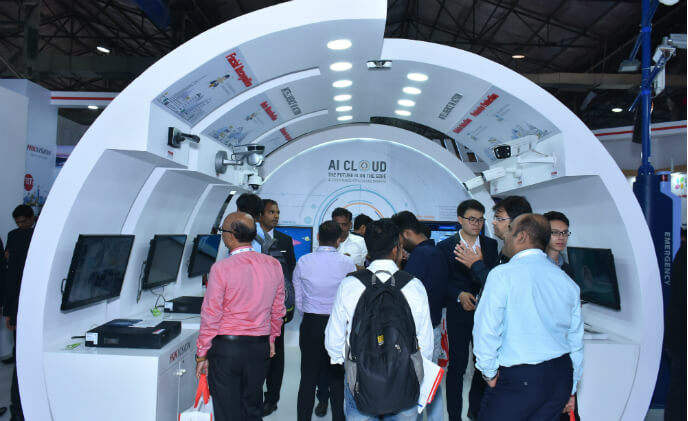 Hikvision successfully launched and showcased their latest technology and signature products during Secutech India. The special AI Applications and AI Cloud demo zone created the maximum interest among the security professionals and visitors.
Hikvision unveiled new technologies and products including latest product series  AI Application enabled DeepinView Cameras, DeepinMind NVRs, Face Recognition Terminals with a turnstile, Robotics, Access Control, Video Intercom, Smart Pole, UVSS, HDTVI Turbo 5.0, Easy IP 4.0 cameras and iVMS at Secutech India.
Hikvision continues to bring the transformational technologies and its myriad applications to the Indian market. Hikvision has created an experience zone to evangelize its AI Applications and AI Cloud solutions. At the event, the live demos of AI-based Face Recognition, People Tracking and Perimeter Protection applications evoked a good response from the security professional community. Security professionals showed a keen interest in Face recognition (Rich applications for various scenarios), Data Visualisation (Making operation more data-driven) and Behaviour Analysis (Quick response to emergency events). Hikvision also introduced demos of new technologies in video surveillance, including Seamless Image Stitching, Smooth Streaming, Hikvision Acusense, and Hikvision ColorVu.
Commenting on the developments, Mr. Ashish P Dhakan, MD and CEO, Prama Hikvision India, said, "Being a leader in AI innovations, Robotics and security solutions, Hikvision has a long term commitment to bring best-in-class technologies and innovations and to offer solutions for different verticals like Smart City, Homeland Security, PPOG, BFSI, Education, Retail, Transportation, Hospitality, Tourism, Pharma, Healthcare, Mining, Heavy Industries, etc. Towards creating a more secure environment, we are proud to introduce the latest products and innovative technologies, including Artificial Intelligence, AI Cloud, Big Data and IoT. At this year's Secutech India, we have introduced AXHub intrusion solution, PIR Cameras along with Smart Pole and Face Recognition Terminal Turnstile. We are sure that all the latest products and cutting-edge AI technology applications will empower the future of security and surveillance industry.'           
Hikvision also showcased PIR Cameras, PanoVu Camera, Turbo HD X Cameras, Easy IP 4.0 Series Cameras along with the latest offerings in Access Control, Video Door Phone, Intrusion Alarm, Storage, Transmission, ITMS, Mobile and Portable solutions, iVMS, and EZVIZ Cameras. Hikvision booth vividly displayed vertical solutions, including Banking, Education, Healthcare, Specialised Applications, Transportation, PPOG (Power, Petroleum, Oil& Gas), Retail, Hospitality, Tourism, etc.
At Secutech India Safety and Security Conclave (SISSC) Hikvision participated in a panel discussion on 'Smart Cities –The Next Five year Plan', Mr.  A.L.Narasimhan, VP, Strategic Business Alliances, Prama Hikvision India, elaborated Hikvision's perspective on India's evolving Smart City implementation plan. On the second day of SISSC panel discussion 'Reshaping the supply chain & logistics security in E-commerce and Retail', Mr. K.K. Dakhara, Vertical Head- Retail, Warehouse & Logistics, Gems & Jewellery, spoke about advanced robotics solutions offered by Hikvision for the warehouse and logistics segment.In another panel discussion at SISSC on 'AI and its impact on Indian security industry' Mr. A.L. Narasimhan, VP, Strategic Business Alliances, Prama Hikvision India, emphasized that security industry can evolve to the next level with the help of AI Applications. He further added that AI application can help in driving intelligent actions and outcomes. 
Hikvision booth at the event displayed the live demos of some of the latest technologies, including Artificial Intelligence (AI) Applications and AI Cloud. Hikvision partner Seagate, showcased their innovative solutions for various advanced applications at the booth. The live training programs on various Hikvision products during the show got a good response from the security community.  For Hikvision Secutech India was another enriching experience with security industry-specific footfall, Connect Program and value-added business networking with security professional community.
Source: Prama Hikvision India, asmag.com