ZVIZ, a consumer business entity of Hikvision, enables people to enjoy the relaxed, comfortable and pleasurable life of technology in a safe, convenient and green living environment created by smart technology.

EZVIZ indoor and outdoor smart surveillance cameras and intruder alarm systems will bring households into the realm of smart home solutions by making it easier for individuals to connect to everything happening in their life – all while ensuring their home is safe.

The debut of EZVIZ products in the India market has enabled our users to visually and seamlessly connect to their homes, families, friends, pets and loved ones. This is just the first step, and we have already planned to bring more and more exciting new smart home products and technology to the India market in the near future. The smart products have all been created to provide peace of mind for users while making them as easy as possible to use. The entire range is ideal for use in a number of settings, such as in children's rooms, to keep an eye on pets and by families with elderly relatives. However, the solutions also provide perfect security for business premises.
Wide range
The company boasts a wide range of both indoor and outdoor Wi-Fi cameras available for personal and commercial purchase. Each high-quality camera comes with a huge list of features that really make them stand out above competitors. From crystal clear 720P-1080P imagery, IFTTT-compatible, Cloud Services and SD card storage options, all the features enhance the excellence of the tech inside and create a truly unique set of security cameras.
Smart Home Alarm Kit
The Smart Home Alarm Kit is the first smart home alarm system. Adding another level of security and connectivity for users, it links flawlessly between existing indoor and outdoor Wi-Fi cameras, smart locks, garage doors, and light bulbs. Once a sensor or detector is triggered, a linked EZVIZ camera will commence recording and send users a notification that they can click to see what triggered the alarm.

All products are IFTTT compatible, and as a result, can work seamlessly with Amazon's Alexa. Working with just one app, the hi-tech products offer the ideal solution for numerous applications around the home.
Husky Air Wall Mounted Wi-Fi Camera
EZVIZ's latest offering, the Husky Air, is an outdoor/indoor all-in-one home security system that combines a full HD professional grade camera, smart siren, warning strobe light and onboard recording capability in one compact package. The Husky Air has a proactive defense function that includes a 100 dB siren and lamp to alert the intruder that they've been spotted. The Husky Air motion detection sends your phone a live video feed of what's going on outside.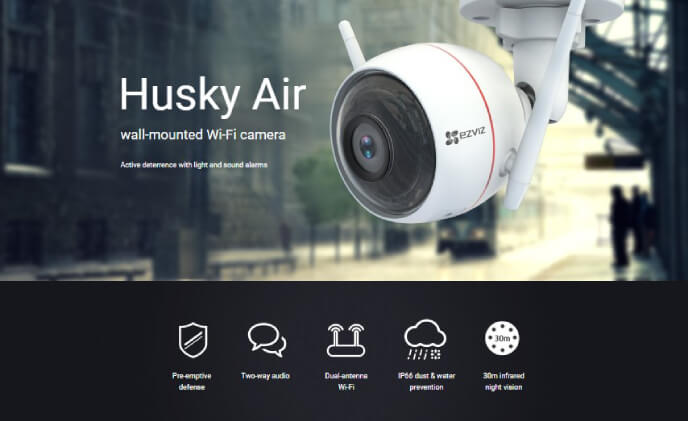 The Husky Air casing complements any décor, and can be installed outside of the front porch, over a driveway or near a gate. The Husky Air dual outdoor antennas ensure a strong connection to a home's Wi-Fi signal even at a distance.

Its built-in waterproof microphone and speaker support two-way talk for convenient and secure communication. Homeowners can talk to a person outside even before they get close to the home's entryway. They can tell a delivery driver to leave the package at the gate, or deter a prowler without putting them in physical proximity.

C6CN- Ez360 Pan Tilt Camera
C6CN is a full HD Wi-Fi pan-tilt camera which can be used to watch over an entire space with its 360⁰ field of view. Ez360 is a pan-tilt camera which comes with a built-in motion detector and smart tracking that will follow any motion or subject in its field of view. 
When it detects motion in its field of view, the C6CN smartly tracks its motion while sending an alert on your mobile with a real-time image. The end-user can also change the direction of the camera using the mobile app. The motion of the camera can also be controlled remotely from the mobile using the app. 
C1C camera
The C1C is a sharp looking camera designed for simple and quick installation. With a wide-angle view of 130⁰, the C1C's super night vision safeguards every corner- even in places with lower illumination. Packed with a storage capacity up to 256 GB, this camera ensures that you have storage available for a longer period. Like all other EZVIZ cameras, C1C also has motion detection alert and 2-way communication features. The strong magnetic base makes installation of the camera, a child's play. Just place it on the shelf or clamp it on the wall and we are ready to go.
Source: Prama Hikvision India, asmag.com